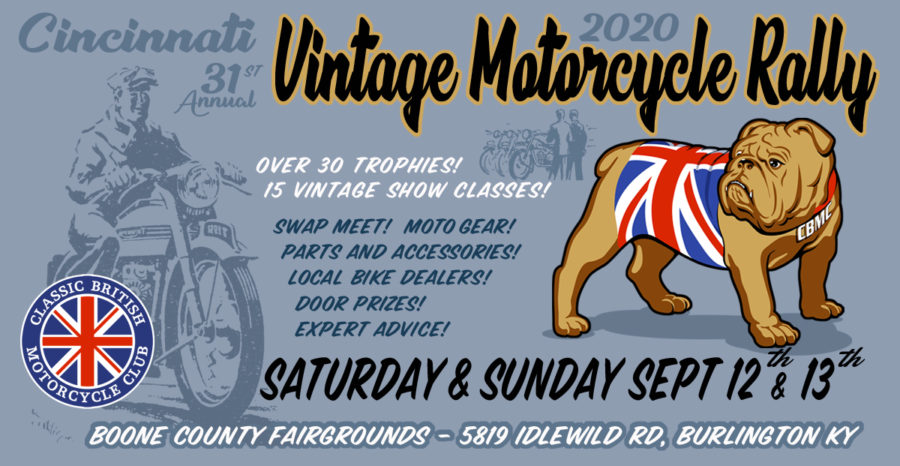 2020 31st Annual Vintage Motorcycle Rally

presented by


The Classic British Motorcycle Club of Cincinnati
PROCEEDS GO TO LOCAL CHARITIES!!!!
Admission:
ADMISSION: $7 Per Person/Day, $10 for Weekend, Kids 12 and Under Free
BIKE SHOW: Pre-Registration Online/Day of Show $10 First Bike/$5 Each Addl
SWAP MEET VENDORS: FREE with Paid Admission! (Contact Us for Pre-Registration)
MOTORCYCLE DEALERS & Motorcycle Related Services: Free (Contact Us for Pre-Registration)
BIKE CORRAL: Sell Your Bike Display – Free with Paid Admission!
15 Vintage Show Classes & Over 30 Trophies
New Modern Classics Class 1996-Present
Local Bike Dealers, Swap Meet & Parts
Accessories, Gear, Services, Expert Advice
Food, Door Prizes, Music
Questions: Show Chair Chris Heck (513) 257-3084
Friday Sept 11th:
General Show Set-up Start: 12 Noon
Vendor & Dealer Set-up: 12 Noon – 8PM
Bike Drop-Off: 12 Noon – 5PM
Security Onsite Overnight
No Admission Fee for Friday (Setup Day)
Saturday Sept 12th:
Vendor & Dealer Set-up: 7AM
Gates Open to the Public: 8AM
Swap Meet: 8AM – 5PM
Bike Registration, Drop-Off & Display: 8AM – 8PM
Entertainment & Club Dinner: 4PM
$7 Entry for Single Day/$10 for Weekend
Security Onsite Overnight
Sunday Sept 13th:
$7 Entry for Single Day Pass
Vendor & Dealer Set-up: 7AM
Gates Open to the Public: 8AM
Swap Meet & Bike Display: 8AM – 4PM
Bike Show Registration: 8AM – 12NOON
$10 for First Bike – $5 Each Additional Bike Entry
Judging Begins @ 10AM
Show Ends @ 4PM
Bike Show Awards:
The Bike Show portion of our Rally is NOT an only British Show, but rather it is a Vintage Motorcycle Show. We encourage entry of any vintage machine of any condition that's European, American Japanese or British. There are classes for Competition and Custom Motorcycles as well. Scooters are also welcome. You may also display your vintage motorcycle without having it judged. Our goal is to present as many vintage machines as possible for our guests and to keep the enthusiasm for this hobby alive and well!
Judging takes place on Sunday of the Rally weekend and is comprised of a Concours-style placing system mixed with an AMCA inspired point system. Bikes are judged in different categories of fit, finish, condition, accuracy, quality, body, engine and function. A numerical score is determined and compared to other motorcycles within a class or region. Our judges are experienced vintage motorcycle enthusiasts and do their best to judge accurately and fairly.
SUNDAY BIKE SHO

W CLASSES & AWARDS
1st & 2nd Place Awards are presented in the following classes (except where noted):
British Classes:
Class 100 – British to 1962
Class 200 – British 1963-1970
Class 300 – British 1971 to 1995
Class B – British Unrestored to 1995 (1st Place ONLY)
European Classes:
Class 400 – European to 1970
Class 500 – European 1971 to 1995
Class E – European Unrestored to 1995 (1st Place ONLY)
American Classes:
Class 700 – American to 1970
Class 800 – American 1971 to 1995
Class A – American Unrestored to 1995 (1st Place ONLY)
Japanese Classes:
Class 1000 – Japanese to 1970
Class 1100 – Japanese 1971 to 1995
Class J – Japanese Unrestored to 1995 (1st Place ONLY)
Competition (All Makes):
Class 2000 – Competition to 1995
Modern & Future Classics Class:
Class 3000 – Modern Classics 1996 – Present
Custom (All Makes):
Class 4000 – Custom (ALL YEARS)
BEST OF & SPECIAL SHOW AWARDS
Best European, American & Japanese
Best of the Rest (British Non-Triumph/BSA/Norton) (Jim Dumont Award)
Best Triumph, Best BSA, Best Norton (Eldon Pitts Award)
Thumbs Up Award (Non-Club Bike of Distinction)
Peoples' Choice (Butch Foley Award)
Best of Show